To fit the whole world into a VR headset, first you need to experience it with eyes wide open. Imagine Belgium condenses experiences gleaned from the four corners of the earth, from Kuala Lumpur to Bangkok, from Macao to Taipei.
It's also the story of a young woman from Brussels who graduated from the ICHEC and wanted to start a business without getting bogged down in figures, and reach new heights without shutting herself away from the world.
That's why Marie Logé joined the "Imagine Belgium" project, the brainchild of Baudouin de Troostembergh. Their goal? To help people discover the history of Brussels and Belgium though an innovative digital experience.
To make their dream a reality, the duo still needed a network, a location and some expertise.
Imagine Belgium & hub.brussels: 360° support
hub.brussels brings together 350 experts in one location, and almost as much business knowledge. Since launching in 2019, Imagine Belgium has enjoyed the support of the agency's different business units to drive their project forward.
helped scrutinise Imagine Belgium's Business Plan
directed Imagine Belgium towards the mybusinesspass Maxi Fly programme
launched a public display consultancy market to discuss the issues and challenges around their future pop-up shop on the ground floor of their physical store
put the duo in touch with Tours and taxis for an alternative museum location (in case their permit was refused)
helped Imagine Belgium to realign their development strategy for the Belgian market after the first lockdown
provided Imagine Belgium with a list of members who offer circular economy products and services
offered online "Digital Communication & Marketing" training
helped the duo find important VR and immersive technology industry players for their museum
put them in touch with Demute studio to produce the VR headset sound design
put the two entrepreneurs in touch with our ECA in France to help them develop their business in France
Put them in touch with our ECA in Milan to launch a similar project in Venice
carried out town-planning research for Imagine Belgium's physical location
gave them advice for their permit application and the steps to take with the authorities to ensure it gets approved
invited female entrepreneur Marie to join the platform to develop her network
invited her to come and deliver a talk for the rebound programme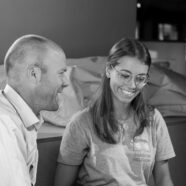 Marie Logé
CEO et co-founder of Imagine Belgium
hub.brussels is a right of passage for any budding Brussels-based entrepreneur. When you launch a business, you're often on your own. The agency provides a reassuring presence throughout your project, and our teams listen carefully to your project needs, challenge your ideas and put you in touch with the right people.
Houston, we have a project
A new aerospace centre has opened its doors on the Brussels Grand-Place! But instead of a space suit, you'll find an ordinary VR headset. Instead of rocket fuel, you'll need your own imagination.
Through 3 themed rooms, including the iconic Maison de la Balance, Imagine Belgium's new Flybox project retraces the history of Belgium, its wars and its art from the country's main tourist sites.
Whether you're flying over Brussels' Grand-Place, climbing the Bueren staircase in Liège, navigating the Bruges canals or cycle racing in Flanders, Imagine Belgium has skilfully negotiated the challenge of how to enjoy a breathtaking getaway without breaking Covid rules, with your feet planted firmly on the ground. It's Marie and Baudouin's values in a nutshell. 
Be like Marie and Baudouin, and call on hub.brussels' 360° expertise!