Do you want to develop your business? Have you ever thought about exporting your goods or services? hub.brussels helps you get started, from your idea to the conclusion of your first international sales contracts. Our team challenges your export plan and supports you in your efforts to make your project a success.
Do you have a unique offer, available on the market, that sets you apart from the competition? Does your company already deal with economic transition, and do you already have some local commercial references? This service from hub.brussels was made for you.
Why a service for Brussels companies that are starting out in export?
Despite a very dynamic market, Belgian's borders only reach so far. While exporting is an ingenious way of making your company prosper abroad, it requires preparation and human and financial investment.
Are you targeting a neighbouring country like France or Germany? Do you want to develop your business on another continent? Your approach will vary depending on your ambition. In fact, each foreign market is governed Your approach will vary depending on your ambition. In fact, each foreign market is governed by cultural and commercial approaches and specific legislation, requiring a particular strategy.
What are the requirements to benefit from this service?
This service is intended for companies that are exporting for the first time – or for the first time outside the European Union – and that already have:
A company number or establishment unit in the Brussels-Capital Region
A website and a professional email address containing the domain name of the company's website
A product or service ready for sale
Sufficient production capacities and resources to cope with a new influx of orders
A sales department and basic marketing tools (catalogue, press articles, video, etc.)
A unique offer that sets it apart from the competition
Some commercial references to show that the products/services have already been sold successfully
What if you don't meet the criteria? The 1819 service is there to guide you!
How can the hub.brussels team help you?
Thanks to the know-how of our team in foreign trade, you will discover all the commercial opportunities that a deployment abroad represents and you will have all the tools you need to find foreign customers for your products or services.
Individual, tailor-made support
Our team:
Diagnoses your project's strengths and weaknesses and its degree of maturity for internationalisation
Finds the most promising foreign markets for your project, with the help of our 90 Economic and Commercial Attachés and our Area Managers
Prepares you to successfully pitch to your prospects in the target market
Networking events
We organize you:
Initiations in export techniques
A priority place at fairs, shows and other events for young companies
A priority place on economic missions abroad
An annual event for companies starting out abroad
Contact days in neighbouring countries
A meeting with our ECAs when they are in Brussels
Partners' network
As a regional agency, hub.brussels can count on a large network of Brussels and foreign organisations, both public and private.
Our partners abroad:
Invite Brussels companies to present their services to their market
Encourage foreign companies to come to Brussels to discover, in situ, the offer provided by Brussels companies wishing to export to their market
Tools and information
Our team gives you access to:
Presentation sheets about foreign markets
Contract templates (contracts, general terms and conditions, invoices, etc.): when concluding the distribution/sale of your goods or products, you will have to deal with a number of administrative documents. These will prevent you from any unforeseeable situation and will protect you in case of inability to carry out the contract (towards your agents, distributors, direct customers…)
Testimonials from companies that have successfully completed their export projects
Information about regional aid for exporting
Guides on procedures, VAT, tax law, after-sales service etc. applicable for the target market (yet to come)
Would you like to benefit from these tools? Complete the form below!
4 good reasons to call on hub.brussels' "Getting started in export" service
Our team supports you for free:
1. Your account manager supports you from your decision to export to your first sales.
2. 90 economic and commercial attachés covering 126 countries provide local assistance.
3. You can access seminars on export, economic missions and collective stands.
4. You benefit from increased visibility, especially on our networks.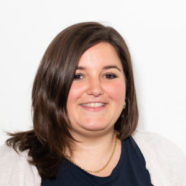 Katia Giovanetti
Account Manager, hub.brussels
Export is a considerable opportunity for the development of Brussels businesses. My mission? Accelerate your international development, participate in your market research, find the most promising markets for you, the sales channels, prepare your pitches taking into account the local culture and thereby maximize your chances of success.
Do you meet the access conditions and want to benefit from our advice and tools to get started in exporting? Fill in the form below!
Fields marked with * are compulsory.
We value the confidentiality and security of your personal data. The hub.brussels data protection policy provides information about how we process your data and about your rights.