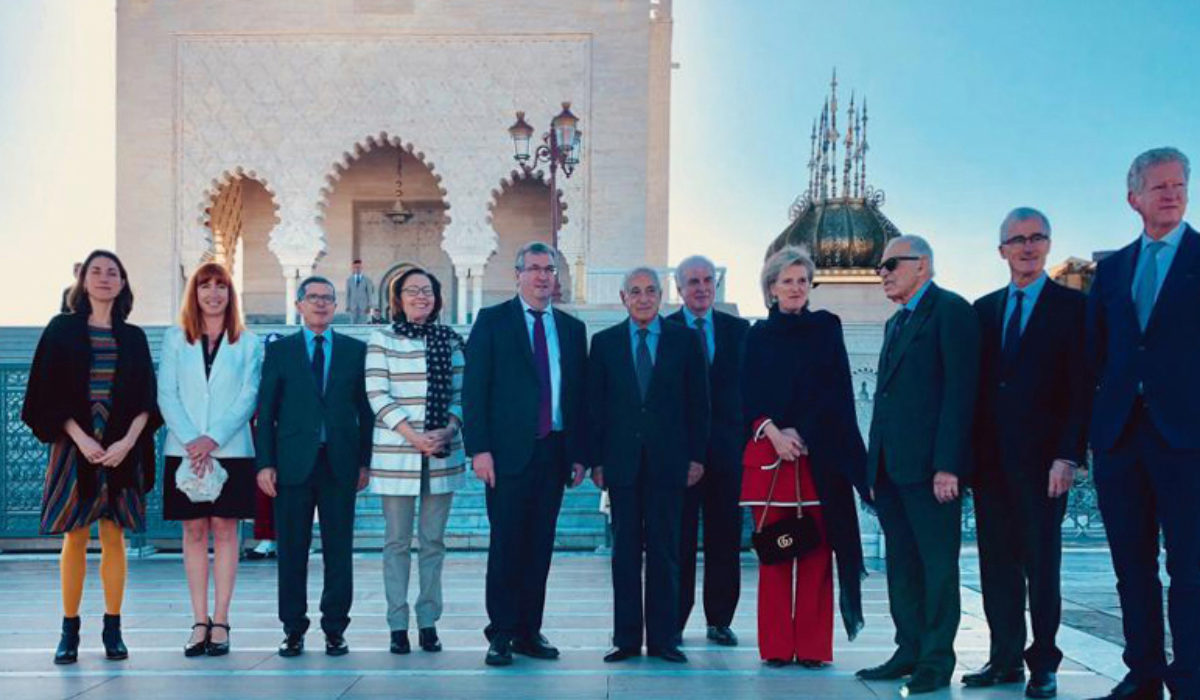 Royal Visits: A Behind-the-Scenes Look!
From 16 to 23 February, a large delegation of entrepreneurs will travel to Mexico with HRH Princess Astrid, hub.brussels, and its Flemish and Walloon counterparts FIT and AWEX. The perfect opportunity to give you an inside look at happens behind the scenes of a royal visit in an interview with Ghislain Breydel, Area Manager at hub.brussels. Follow the guide… 
A law-school graduate, Ghislain was a Project Manager at Brussels Invest & Export for 5 years. Since 2016, he has worked as Area Manager for North Africa and the Middle East, and is responsible for coordinating events, visits, and activities in relation to these regions. Last November, he oversaw the organisation of a royal visit of gargantuan proportions. It featured 470 Belgian participants – including 110 entrepreneurs from Brussels – who journeyed to Casablanca, Rabat, and Tangier to meet with Moroccan decision makers from the public and private sectors.
What does a royal visit look like in practice?
G.B. : Royal visits generally follow a similar pattern. A delegation made up of a selection of ministers and participating companies travels to a host country for a 3- to 5-day stay. The programme includes ceremonies and the signature of bilateral agreements, as well as meetings between our ministers, HRH Princess Astrid, and their foreign counterparts.
For their part, businesses are invited to attend a series of themed lectures, usually followed by popular networking sessions that allow our Belgian business owners to exchange with local businesses – and sometimes with ministers – in a less formal setting.
Who is responsible for organising them?
G.B. : The business organisations from each of the three regions devise a shared programme in coordination with the FPS for Foreign Affairs and the Belgian Foreign Trade Agency.
For this, hub.brussels works closely with FIT and AWEX – its sister organisations in Flanders and Wallonia. Each region draws up a list of its preferred destinations, and we then work to craft a coherent and meaningful project.
Do all three regions share the same areas of expertise?
G.B. : Each region has its own particular areas of expertise. They tend to vary in accordance with the countries visited.
For instance, for this visit to Morocco, Wallonia's programme was centred around the mining and energy-production industries, whereas Flanders focused on logistics and chemicals. Brussels, on the other hand, has expertise to showcase in the construction industry, and more specifically, in the area of sustainable construction.
But above all, Brussels stands out for its service industry. Brussels accounts for 25.5% of all Belgian service exports. This includes construction-related service companies such as design engineering and architectural firms, as well as legal and financial firms. As the capital of Europe, Brussels is a leading destination for foreign businesses looking to enter European markets. For instance, law firms specialised in international trade and competition would be hard pressed to find a better location than Brussels. We also promote Brussels as an international hub for arbitration.
Can any Brussels company take part in a royal visit?
G.B. : That's correct – anyone can participate, regardless of their area of expertise. The only two requirements are that they be based in Brussels and have a company registration number. Our visits often feature companies from a variety of sectors, and themes are chosen to match the opportunities available in the host country. But the programme is not an end in itself. If a business owner is looking to move into a country like Morocco but doesn't see the business activities in its own industry being showcased as part of the royal visit, we make an effort to organise personalised B2B meetings in its business areas.
What does the registration process consist of?
G.B. : When a company is interested in a royal visit, the first step is to fill out a "company profile", which consists of a short summary of its business offering, the contacts that it is looking to meet with in the host country, and its reasons for participating in the visit.
We then contact the company and take a look at its profile together to offer a custom-tailored programme to suit what it is looking to achieve.
What are the benefits of participating in a royal visit?
G.B. : Businesses that participate in a visit reap advantages that go far beyond just participation. First, royal visits (which number two per year) receive excellent media coverage, which is a fantastic way of showcasing the businesses who choose to take part in them.
Second, it should be remembered that the goal is to forge contacts with local businesses. This is made possible through a number of custom-tailored B2B meetings organised beforehand by our teams in Brussels and in the local country.
Lastly, these royal visits allow companies to join hub.brussels's database and benefit from our range of services. Before each mission, our teams contact the companies to prepare a detailed portrait of them. This allows us to seek out local prospects that are a good fit for their core business and keep them apprised of other visits and events related to their areas of interest.
Do royal visits always lead to partnerships?
G.B. : The economic benefits of a royal visit are hard to gauge, as they are specific to each company. It is important to factor in the goals behind a company's participation in a visit, in addition to the contacts made in the local country. For instance, a company can decide to participate in a royal visit to get an overall picture of the host country's business climate, without necessarily seeking out immediate partnerships.
A company can also participate in the overall programme for the visit while handling its B2B meetings entirely on its own. Contacts made during a royal mission can turn into opportunities months – or even years – later. We regularly get feedback from participants who tell us that, with time, one thing leads to another and these contacts – particularly between Belgian companies – allow them to initiate international projects.
What does a B2B meeting consist of?
G.B. : Before the visit, participating companies can ask our teams to propose a custom-tailored programme for them. They simply have to tell us what type of businesses they would like to meet with, and we work with our Economic and Commercial Attaché in the host country to organise these meetings. A programme is then drawn up around them, along with any lectures and events that the business would like to participate in. B2B meetings often take place in the hotels where the delegation is staying. Depending on whether several businesses are looking to discuss the same topics, they can be one-on-one or group meetings.
The sheer size of the Moroccan royal visit was a challenge in and of itself. We had to offer each of the 110 participants a custom-tailored programme with meetings in their areas of expertise – some of which are highly specific.
How much does it cost to participate in a royal visit?
G.B. : Participants are asked to cover registration, travel, and hotel costs. However, subsidies are available from Brussels Economy and Employment for companies that meet the basic requirements. They include partial coverage for travel and accommodation costs. Registration costs €100 for SMEs and €300 for "large" companies.
However, once a company arrives in the host country, everything is covered: catering for networking events, local travel, lectures, visits, etc. A sort of all-inclusive package associated with a series of meetings.
So, in this case, hub.brussels is also like a sort of travel agency?
G.B. : It is true that, for organisational purposes, we make flight and hotel arrangements and take care of coaches between the airport and the hotel, between the hotel and the lecture venues, etc. However, we don't do everything for companies. We simply create a favourable environment for companies to seize and take advantage of business opportunities – and generally, they do a great job of it!
Apart from visits abroad, what does hub.brussels Invest & Export have to offer?
G.B. : In addition to our programme of activities, which includes various trade fairs and visits, we are also the point of contact for different chambers of commerce around the globe. For a country with a significant amount of exports like ours, it is important for our three regions to flawlessly communicate and work together, which we work to ensure every day.
With our Invest teams, we also host foreign delegations and potential investors in Brussels. What's more, we regularly host foreign buyers via our diverse set of activities.
We also take part in international trade fairs by organising shared exhibits for companies from Belgium/Brussels.
Lastly, we constantly keep our finger on the pulse of the market so that we are able to determine what industries and sectors are relevant for our companies, as well as what countries are prime targets for exports.
Can you sum up your services in three words?
G.B. : I would say advice, networking, and information. But above all, free expert assistance at your service!
Do you have an export project? Would you like to take part in one of our missions? Discover our 2019 export agenda!