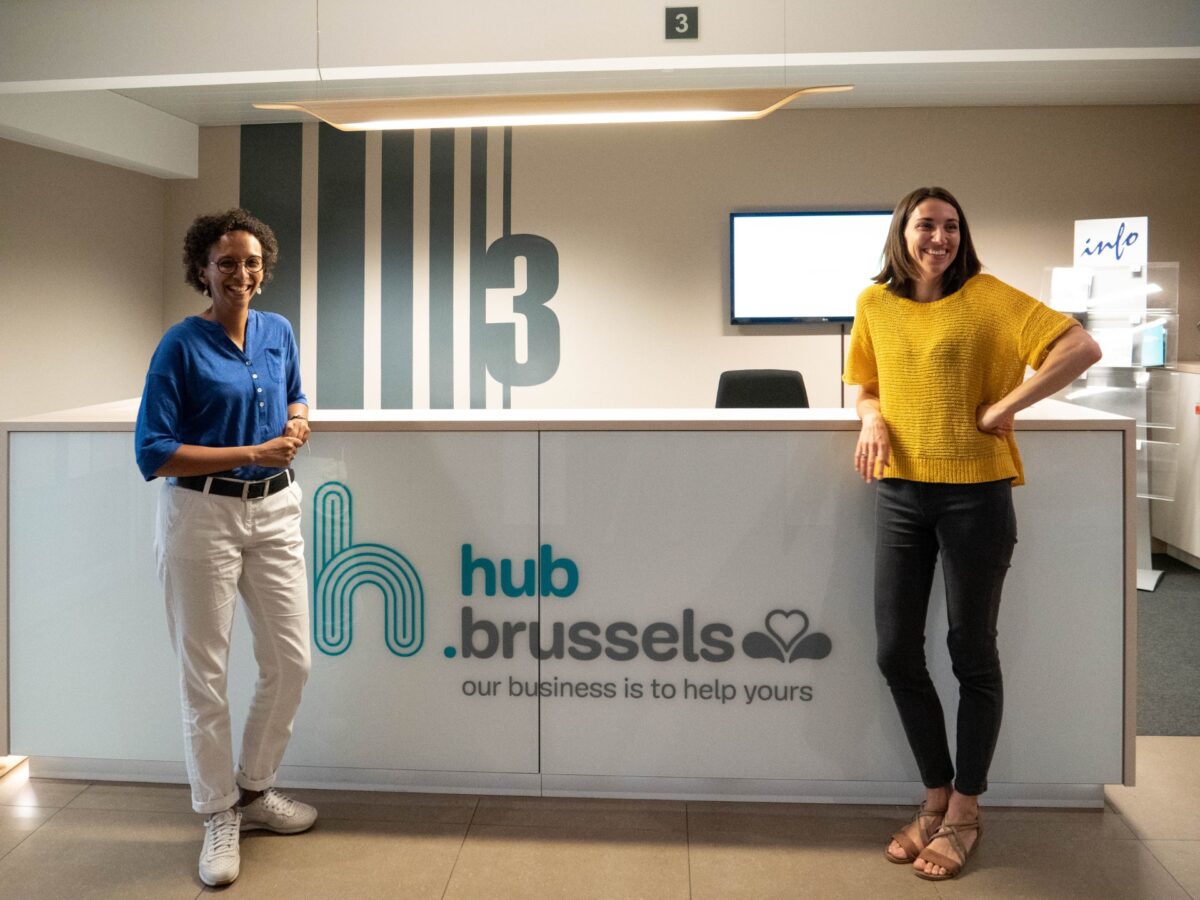 hub.brussels is launching a support plan for local retail
With the new wave of COVID-19 and another lockdown, the number of calls for assistance from Brussels retailers has exploded. To respond, hub.brussels, with the support of the Secretary of State for Economic Transition, Barbara Trachte, is expanding its offering with assistance specifically designed for retail and hospitality. The key words? Universality, speed, and effectiveness.
Interview with Isabelle Grippa, CEO of hub.brussels    
Why develop a support programme specifically for retailers?
Isabelle Grippa: The emergency assistance we put together the day after the first lockdown is aimed at all company types, regardless of their size or sector: retail, hospitality, events, cultural and creative industries, services, etc.
Since the second lockdown and the latest announcement on new assistance measures, we have also seen a logical increase in requests via our information service, 1819. It therefore seemed urgent and pertinent to expand our assistance offering specifically for retailers and hospitality to be able to successfully field all of their requests and make our services universal.
A week dedicated to retail will also be organized by hub.brussels, its 1819 service and a series of partners from November 30 to December 4.
How does the emergency assistance work?
Isabelle Grippa: We can, unfortunately, be likened to a clinic for companies. We have a similar approach: the key is to first provide an accurate diagnosis.  Some retailers and entrepreneurs solicit our help without knowing exactly what the problem is. They only know things aren't going well. It's important for us to do a full and rapid check-up of their business.
In addition to identifying the correct symptoms, it also allows us to assess the gravity of their situation. 
For some, the best option is assistance to terminate their business. Then, one of the potential solutions could be to transfer the business. We can then offer assistance with finding a potential buyer to pass the torch to and enable the entrepreneur to restart elsewhere, calmly, differently.
In other cases, we ensure that they are taken care of by our teams and those of our partners, the Centre for Enterprises in Difficulty (Centre pour entreprises en difficulté), the Local Economy Offices (Guichets d'Economie Locale – GEL), Auto Création d'Emploi (ACE) and the finance&invest.brussels platforms. An entire relaunch team then deploys strategy, finance, law, mediation, psychological support, etc. We don't hold back.
What are the new actions being taken for retail?
Isabelle Grippa: First of all, we want to strengthen our existing service offering. It is proven and widely praised, but we must deal with the ever-increasing influx of requests. We are therefore training our advisors in-house to be able to respond en masse to the requests via our 1819 service. We have also permanently extended our hours and are developing an information portal specifically for retailers and the hospitality professions.
But the main goal is to enrich our coaching programme offering with turnkey support programmes, so that retailers can rapidly implement successful solutions. To do so, we are working with our long-term partners, the Guichets d'Economie Locale and retail associations, and we are also increasingly calling upon private-sector professionals from Brussels.
Does coaching work?
Isabelle Grippa: Yes, yes, one thousand times yes! But you must want to take part…In this respect, there are many psychological barriers to break with some entrepreneurs. We must regularly convince some people who think that only a financial boost will help them weather the storm.
It's like the old proverb says: is it better to give a man a fish or to teach them to fish? In Brussels, we are doing both. But at hub, our job is to teach people to fish. Allowances and subsidies can help people hold out until the next quarter; training offers the promise of lasting survival and growth.
We also see many retailers who feel left behind or overwhelmed by digital tools, in particular. Stock, staff and sales management, accounting, communications: when you have a shop or restaurant you must master a range of skills. It's normal that you can't be an expert in all of them! That's where a coach becomes useful.
E-commerce? Click and collect? That's not for me. I'm too small. I don't have time to jump into it…It's too expensive and I don't have the money to invest at this time.
Isabelle Grippa: The solutions are quick and free and there is something for everyone, from the simplest formula to the most complex. With empathy and the necessary know-how, a coach can guide retailers through this teeming offering to find the best formula for them.
At hub.brussels, we've taken up the challenge of offering a selection of solutions-oriented micro-coaching programmes adapted to the needs of each and everyone.
Micro-coaching: what does that mean?
Isabelle Grippa: The key words are simplicity and effectiveness. We cover a series of easily-implemented actions for retailers:
building a small e-commerce shop
getting started with click and collect or phone and collect
adapting the price of their dishes to delivery
reviewing their budget,
We set aside 60, 90, to a maximum of 120 minutes to implement a solution with them.
The formula changes based on their needs and their request. Sometimes, it involves highly personalised individual coaching with an appointment, other times, it involves collective support or a webinar. Everything is, of course, 100% digital and free. And we will be making open source replays available in French, Dutch and English on our networks.
Is a digital coaching session suitable for everyone?
Isabelle Grippa: Unfortunately, no. Today, a large share of retailers doesn't have access to computer tools. The lockdown is, unfortunately, creating a digital divide between retailers.  
As a public service, we must fight to prevent this digital and societal divide! The retail sector is the only route available to escape job insecurity for a significant portion of our population. We can't let anyone fall behind. Entrepreneurship is and must remain a driver of social emancipation, regardless of the situation and regardless of the crisis.
After the June reopening, we immediately began organising meetings and workshops in the field again. The considerable interest generated demonstrated the importance of maintaining non-virtual proximity. 
How can you guarantee this universality today?
One of the focuses of our Retail Plan's is primarily intended for our local partners. We provide assistance and specific training for retail associations and we provide information and support to the Municipalities for their retail promotion measures.
On this subject, and for the sake of comprehensiveness, our Plan also includes an extensive awareness-raising campaign about local retail for the year-end holidays.