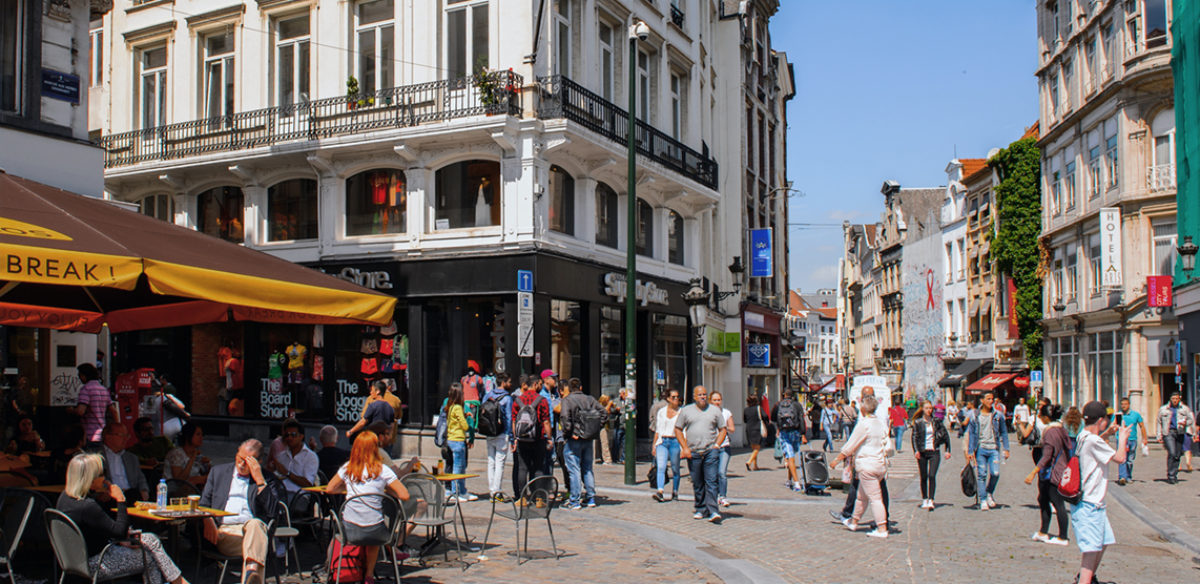 Retail structure in Brussels
Statistics, vacancy rate and networks.
As part of the Business Development Plan for the Brussels-Capital region, hub.brussels has carried out a series of analyses in partnership with Perspective.brussels and the Free University of Brussels. It has used the results of these analyses to contextualise the current situation of, and changes to, retail provision. This article looks at the retail structure in the Brussels region, and the location, type and occupancy rates of retail outlets.
On 1 July 2017, the hub.brussels database recorded 25,435 retail units in the Brussels-Capital region. Of these, 21,999 were occupied.
À la date du 1er juillet 2017, la base de données de hub.brussels recensait 25 435 cellules commerciales en Région de Bruxelles-Capitale. Parmi celles-ci, 21 999 étaient occupées.
18.1% of retail outlets concentrated in the Pentagon, the centre of Brussels
Generally speaking, these units tend to concentrate in areas that offer high footfall and visibility. So it stands to reason that the greatest concentration of retail outlets is found in the Pentagon and the first-ring suburbs.
Despite its limited size (2.3% of the land area), the Pentagon is home to 18.1% of the region's retail outlets, and accounts for 10.8% of the total land area occupied by outlets. Its footprint and commercial density is more than twice that of the other areas in the region.
The remaining outlets are distributed almost evenly between the first- and second-ring suburbs (44.3 and 37.6% of retail outlets, respectively). However, the first-ring suburbs occupy a smaller area. Therefore, their footprint and commercial density is, logically, greater.
The footprint of the retail outlets is, for a given space, the ratio of the total surface area occupied by shops to the total surface area.
50% of retail outlets located in City of Brussels, Ixelles and Schaerbeek
On a municipal level, the City of Brussels easily outdoes the other municipalities in terms of outlet numbers, being home to nearly 7,000 retail premises, that is, 27.5% of the region's retail provision. This represents over double the retail provision in Ixelles (the second-highest municipality for this category) and nearly 30 times that in Watermael-Boitsfort and Koekelberg, the two municipalities with the smallest retail provision.
Furthermore, the Region's retail provision is concentrated in just a few municipalities with almost 50% of its outlets located in the City of Brussels, Ixelles and Schaerbeek. If the seven municipalities with the most shops are included, this proportion is nearer to 75%.
84.8% of shops not part of a chain
In addition to providing information on the location of retail outlets and their commercial nature, hub.brussels identified whether they belong to a chain, forming part of a network operating under a single name.
A shop is considered to fall into this category when it is part of a group of stores with at least seven outlets in Belgium and/or when it belongs to a globally recognised brand (such as the Apple Store, Abercrombie and Fitch, etc.).
The Brussels-Capital region has over 660 different chains. Together, they represent over 3,300 retail outlets (that is, 15.2% of active shops). With nearly 80% of them present in the hub, they are more likely than other shops to be located in key shopping areas.
Of the eight categories of active shops, three of them – 'Personal care and equipment', 'Retail services' and, to a lesser extent, 'Regularly purchased products ' – dominate sales by chains, since together they account for over 2,600 retail outlets, that is 78% of chains located within the region.
While Brussels' city centre and the Haut de la Ville (the top end of the city) are home to many brands, these brands do not dominate the entire provision, unlike in other hubs such as shopping centres.
Shopping hubs are units of analysis that apportion retail outlets according to shop-specific segmentation, depending on the size of their offer (size criterion) and their concentration (density criterion).
13.5% of outlets empty
In the Brussels-Capital region, there are nearly 3,500 unoccupied units, representing a total vacancy rate of 13.5%.
However, this is very much an overall figure since there are marked differences between the Pentagon and the first- and second-ring suburbs (18.3%, 13.9% and 10.7% of empty units, respectively). The outlet vacancy rate is as high as 20% in some hubs (Congrès and Marolles).
Several reasons may be put forward.
First of all, there is the history of retail activity in Brussels. The Region has experienced severe contraction in its retail provision, having twice as many shops in 1950 compared with today. Since this change was more marked in the heart of the region (where there was greater provision), it seems reasonable to hypothesise that more empty units have been generated in this area than in the second-ring suburbs.
We then observed a trend whereby the smallest units were side-lined for areas offering more space (failure by existing buildings to meet the spatial requirements of retailers). Since plot sizes are smaller in the heart of the region, a more pronounced effect is to be expected there.
It should also be noted that the presence of some empty units is 'normal' since it ensures turnover of activity and the creation of new outlets.
Blog
Discover the last news of hub.brussels.
Thanks to the sponsors of Schéma de Dévelopmment commercial: