As a child, Laurane used to make little cardboard houses. Today, her adult self helps the dreamers (and hard-workers) among us with their self-build projects. This ethical and poetic dream became a reality following a trip to Portugal. 
Degré 47 & hub.brussels: laying the foundations
Degree in hand, Laurane Coornaert asked herself: how can we look at architecture in a more socially-responsible and sustainable way? The answer came from the South, in the form of a Porto-based charity that builds housing for disadvantaged families… and occasionally welcomes volunteers who are not afraid of rolling their sleeves up.
Learning the trade on the ground with EYE
When she made contact with her future mentor, Laurane learnt of the existence of Erasmus for Young Entrepreneurs (EYE). This international exchange programme, coordinated by hub.brussels in the Brussels Region, enables people with an idea to learn the trade of entrepreneur anywhere in Europe, alongside a more experienced peer. 
Through its EYE programme, hub.brussels:
supported Laurane to create her business plan
provided mentorship and advice with the formalities of submitting her application
helped her prepare for her exchange in Porto
Get the information and advice you need with 1819
Her 6-month Erasmus exchange gave Laurane the opportunity to dive headlong into the reality of life as an architect. She learnt about new affordable building techniques and low-tech materials. 
Upon her return to Brussels, Laurane contacted hub.brussels for support launching her own business.
The 1819 information service from hub.brussels:
provided Laurane with information on the formalities of launching her business
informed her on operating as a sole trader, as well as the various forms of company
The architect also participated in Boost Your Project and Start.LAB, two incubator programmes to get her project off the ground.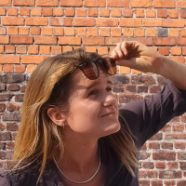 Laurane Coornaert
Founder of Degré 47 and of the not-for-profit "les débris-colleurs"
For me, the entrepreneurial adventure really started when I had to write my business plan to participate in the EYE programme. The advice from hub.brussels helped me structure my project and test my ideas.
And on this rock…
In 2020, Laurane was ready to do her bit for sustainable construction in Brussels. 
And on this rock, Laurane built something great: an eco-construction and self-build consultancy called Degré 47. Her team helps self-builders manage their budget and site and choose materials and tradespeople that fit with their values. 
And since you know what they say about rolling stones… The architect has also launched not-for-profit "les débris-colleurs" (literally "the debris that sticks"), part of the "Do it Yourself" movement making architecture more affordable. In this spirit, she has taken a bold step Tiny pike-pulled houses for homeless people.  Plans are now available OpenSource on her website, for any self-builder looking to build a similar project.
Finally, seeking to raise the profile of modern, affordable and sustainable architecture, Laurane has recently launched her own YouTube channel.
Erasmus for Young Entrepreneurs provided the launchpad for a whole series of entrepreneurial projects, driven by a young woman with stony determination, who has come a long way from the cardboard houses of her childhood. 
Want to gain experience abroad like Laurane?
Join us for our next EYE information session on 27 April, from 12:30 to 1:30 PM!
You may also be interested in: