Two budding entrepreneurs are behind Old Boy: Xavier Chen and John Prigogine. One is a commercial engineer, the other a lawyer. Both were eager to take on a new challenge and reconnect with their roots. The Old Boy concept was born.
The pair set off in search of neighbourhoods in Brussels that could welcome their project, somewhere between Bangkok, Taipei and Brussels.  A mission for hub.brussels and its Retail team!
Old Boy & the Fountain of Youth: the OpenSoon subsidy  
The Old Boy project was already well under way when it came to hub.brussels. So, we played the role of facilitator and mediator for the project partners, in particular to obtain subsidies.
Coaching & Subsides
hub.brussels:
looked over the proposed business plan with an expert eye
put the two partners in touch with Village Partenaire
encouraged the duo to submit a file for an OpenSoon subsidy
assisted them with preparing their OpenSoon file
The OpenSoon regional call for projects provides access to:
subsidies
coaching during the search for the best-suited location and the commercial positioning with the most promise.
Success favours the bold: the Old Boy file was accepted. The two friends found a location in Ixelles that met their expectations and the subsidies granted allowed them to begin their adventure with a comfortable financial cushion.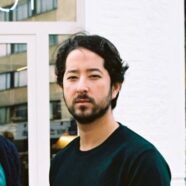 John Prigogine
co-fondateur de Old Boy
It is thanks to Nicolas from hub.brussels that we heard about OpenSoon and the existing coaching structures to support young entrepreneurs. hub.brussels also allowed us to better understand the needs and life of different neighbourhoods and to confirm our feelings about it.
Put success on the menu by using our services
At first glance, Old Boy seems like the complete opposite of its namesake film: it's as well-lit as the South Korean masterpiece is dark and as upbeat as the full-length feature is dramatic.
The modern canteen and the 2004 Cannes Grand Prix winner do, however, share one common denominator: they leave no one indifferent.
And, each, behind the burners and the camera, is able to precisely measure out sweet and sour, for a perfect balance and intrinsically Asian flavour.
The formula can be duplicated on demand, thanks to the expert guidance of our retail experts
Encouraged by the success of Old Boy, John and Xavier submitted a new OpenSoon file, this time to open  LiL Boy. Located right next to its older sibling, it's now the take-away counter's turn to garner attention, with its delicious chicken sandos and thaï bao.
Do you have a restaurant project? The hub.brussels Retail team provides events, training and networking!