There is no longer any need to be upset about not being able to move: that's what MoveUP brings patients who have undergone hip or knee surgery with its digital rehabilitation support solution.
The start-up was born from an alarming discovery: 5 to 10% of patients who receive a hip prosthesis are unhappy with their surgery. The figure is even higher for knee prostheses (20 to 30%). Why? A lack of post-operative follow-up.
The patient's post-surgery care had to be rethought and patients provided with personalised, digital support.
MoveUP & hub.brussels: non-stop support
An orthopaedic surgeon and two engineers are behind the concept. They had to learn a whole series of new concepts ranging from company creation to the specificities of the MedTech sector.
A plunge into the lifetech ecosystem
Thanks to hub.brussels' lifetech.brussels cluster, dedicated to medical technologies, MoveUP benefited from both individual and collective support, notably by taking part in the first edition of the MedTech Accelerator programme.
Lifetech.brussels:
provided support to the start-up in the MedTech Accelerator
provided it with information and support to search for subsidies and regional financial aid(notably via finance&Invest.brussels and innoviris.brussels)
put it in contact with a range of regional and academic institutions, hospitals and other companies in the sector
invited it to take part (as a participant and speaker) in the cluster's networking events and themed workshops
connected the start-up with hospitals and service providers during the COVID-19 pandemic, including The Saint Jean hospital
Legal expertise
The hub.brussels Expertises team also provided the start-up with support for its legal set up.
hub.brussels:
helped the start-up structure its plans: business plan, financial plan, pitches, etc.
Search for European subsidies
The start-up was barely born and already knew how to walk. So, hub.brussels helped it take its first steps internationally, via collective stands at trade shows in France, Germany and Israel. The Agency then provided information about European-wide subsidies via its NCP Brussels team.
NCP Brussels' mission is to encourage participation by Brussels companies in the European Framework Programme for Research and Innovation: Horizon 2020.
NCP Brussels:
provided MoveUp with information about European projects
suggested that the start-up submit its project to the Horizon 2020 Programme's EIC Accelerator with the help of Enterprise Europe Network
helped it put together and submit its project
coached the co-founder on defending the project before the European Commission, with the help of the lifetech.brussels cluster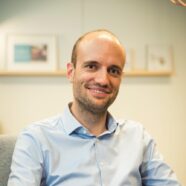 Charles-Eric Winandy
MoveUp co-founder and director
hub.brussels has supported us from the beginning. The teams that coached us share three essential qualities: availability, unfailing responsiveness and professional proactivity. They put us in contact with many people and provided many opportunities we were able to take advantage of.
Develop your company beyond your borders by using our services
The Brussels start-up lives up to its given name: resilient and proactive. Rather than bend to COVID-19, MoveUp adapted by providing a remote solution to healthcare professionals to follow people suspected of having the virus, diagnosed with it or recovering from it.
At the dawn of the lockup, the start-up, encouraged by our teams, submitted a file to the European Innovation Council Accelerator (EIC) pilot project. MoveUP is among the 70 companies selected among 4000 challengers, to receive financing of €2.7 million.
No need to add that the application was approved by mHealth Belgium, making it one of the first Belgian medical applications certified M2 and that since the green light from the INAMI on July 14, 2020, it is officially reimbursed?
MoveUp now has everything it needs to repair French, English or German hips and knees…and to make the Belgian HealthTech sector swell with pride.
Discover our panel of services