greenlab.brussel: for sustainable start-ups
Do you have a green economic plan for Brussels? Get it off the ground for free in just 6 months with our greenlab.brussels sustainable start-up accelerator programme! We give you access to personalised coaching, workshops, expert consultants, and of course, support your transition to green.
Why is there an accelerator programme for sustainable start-ups?
In its common policy statement, the Brussels-Capital region commits to making the transition by putting it at the heart of its economic strategy. It will gradually direct all its economic support tools towards low-carbon production models, a circular and regenerative economy, social and democratic entrepreneurship and digitalisation of the economy.
Brought to you by hub.brussels, the greenlab accelerator programme aims to stimulate green and circular entrepreneurship in Brussels and give future entrepreneurs all the necessary tools to create a sustainable business.
How can the greenlab.brussels programme help?
Via the greenlab.brussels programme, hub.brussels sustainable economy advisers will help you to:
Reduce risk by assessing the viability of your project
Present a professional and convincing business plan to investors
Gain sustainable entrepreneurial skills
Be part of a unique network of entrepreneurs and coaches in the environmental and circular sectors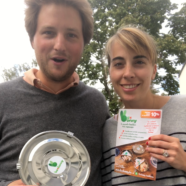 Box Bunny
Ludovic van Laethem &Amélie Mertens | greenlab winners 2017
greenlab is designed to transform ideas and concepts into real businesses. The quality of the speakers, workshops and exchanges with specialists, the entrepreneur and circular economy network...: all of it enabled us to structure the various aspects of our project launch.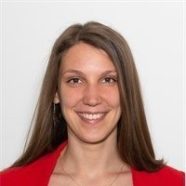 Virginie Smans
Project Coordinator, hub.brussels
In addition to quickly testing and validating their idea, greenlab allows entrepreneurs to flourish in their new role and create strong bonds between participants.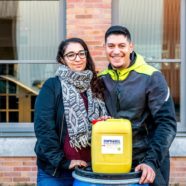 Enprobel
Nahla El Mernissi & Imad Moukkat | greenlab winners 2018
The greenlab.brussels accelerator programme was a real springboard for our team! The fact that we won in 2018 provided us with credibility in the circular economy, in addition to receiving incredible media attention. It's a unique programme that helped us grow a great deal and progress.
What are the conditions for being part of this programme?
The conditions which must be met in order to participate in the programme are as follows:
The activities related to your project must take place within Brussels
Your project must have an economic angle
Your project must have a positive impact on the environment
Your project must be innovative
You agree to follow the programme consistently and conscientiously, and you will make yourself available, particularly for the key dates
The call for applications for greenlab.brussels is launched from September 15th 2020: don't miss the next one!
Any questions? Ask Virginie!
Fields marked with * are required.
We place an extremely important value on the confidentiality and security of your personal data. The
personal data protection policy
from hub.brussels informs you about how we process your data and about your rights.
Vous souhaitez participer à la transition vers une économie durable? Développer un business model soucieux de l'environnement? Rejoignez le réseau d'entreprises circlemade.brussels!