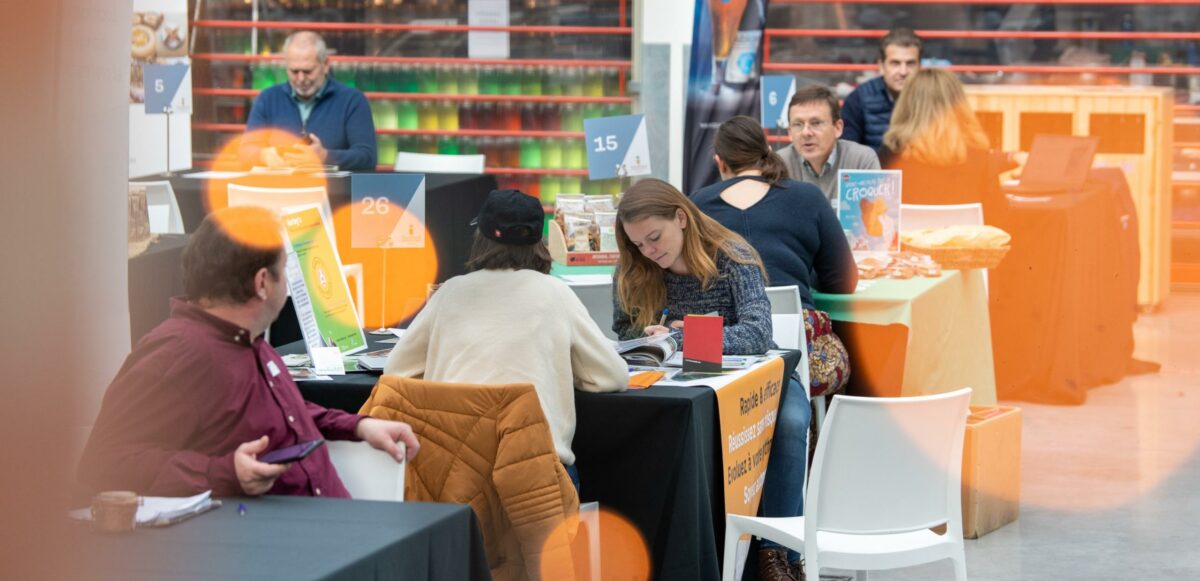 Good Food Speed Dating: happiness is in your plate
On 18th October, hundreds of MICE professionals gathered in the BE-HERE sustainable village to attend the "Good Food" Speed Dating event. Food producers, restaurateurs, processors and cantine managers met to achieve the same aim: establishing local and sustainable partnerships to meet ethical and environmental standards of sustainable food.
Good Food Strategy was implemented 5 years ago by Brussels-Capital Region. The main goal? Putting sustainable food at the core of urban dynamics. Thus, in 2020, Bruxelles Environnement, visit.brussels and hub.brussels, through its circlemade and hospitality clusters, planned a Speed Dating event to help professionals rethink the "eating well" concept together.
From cereals to dairy products, from meat to fruits and vegetables, including chocolate and aromatic herbs, and -of course- sustainable and fairtrade grocery shops: every sector was put on the table this year, for a 15 minute time-lapse.
Wonderful opportunities for attendees
'Ferme Nos Pilifs' was among the attendees. The certified-organic farm, located in Neder-over-Heembeek, sets its food activities (grocery store, bakery, cookie factory, estaminet, garden center, market gardening) in line with the Good Food dynamic, favors partnerhips with local food producers and conceives projects that conforms with circular economy. 
"Good Food Speed Dating is a great opportunity to meet new business partners, especially for our bakery and cookie factory. We are given a chance to make first contact and consider new partnerships," says Thierry Valentin, Sustainable Food Manager at 'Ferme Nos Pilifs'. 
Bam! company, as well, benefited from this productive day: 
"The Good Food Speed Dating event is the perfect opportunity to proposer our zero waste offer to Belgian professionals working in the food sector, as restaurateurs, neighborhood and sustainable canteen managers, willing to provide their clients with quality products,"  explains Florence Posschelle, co-founder of Bam!. 
New services to boost local partnerships
This year, Brussels for Environnement launched the "sector facilitator", a new free support and information service to assist attendees. The main goal? Helping professionals produce enough local and sustainable food products to meet canteens, restaurants and stores needs. A great way to boost local partnerships, particularly in the tourism sector and event industry.
You too can make a big change!