L'Auberge Espagnole: applications are open
More entrepreneurial than ever, the pop-up incubator L'Auberge Espagnole from hub.brussels is launching a call for candidates for the programming of its fifth season, which will start in February 2020. A concrete and complete solution to test your business concept in real conditions in Brussels.
The pop-up L'Auberge Espagnole is an enriching first experience that will allow you to gauge the maturity of your project and make any necessary adjustments.

It should be noted that at the Auberge Espagnole, you don't "just" mind a shop. The business incubator/pop-up shop in fact encourages its occupants to take advantage of all of the opportunities that short-term occupancy represent.
She tested her project at L'Auberge Espagnole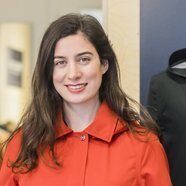 Léa Potache Stein
Creator of APA-Intemporal
We needed a physical experience to develop our brand. The Auberge Espagnole allowed us to achieve this!  The various coaching sessions have been very qualitative and have filled our gaps and strengthened our concept. A revealing step for our fashion tech brand.
L'Auberge Espagnole: a springboard for the future
Out of 17 candidates who passed through L'Auberge Espagnole, 10 opened their business!
Are you a creator? A craftsman? An artist? Do you have a business concept around European products? Do you dream of taking the plunge and going into business? The light wooden shelves of the Auberge Espagnole are waiting for you!
Registration are open until 23 September 2019.
Check out other hub.brussels accelerators & incubators